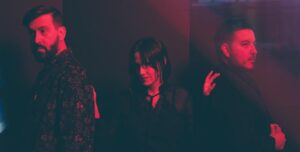 Redder Moon's Enigmatic New Single: "The Illusion" from the Upcoming Album "She Was Certainly Bit By Something"
Exciting news for music enthusiasts and fans of the enigmatic Redder Moon! The band is gearing up for the release of their much-anticipated second full-length album, titled "She Was Certainly Bit By Something," set to drop on October 13, 2023. In the lead-up to this release, the band is treating us to a taste of what's to come with the release of their second single, "The Illusion," will be released Thursday, October 5th.
Redder Moon is staying true to their independent roots by initially releasing their sophomore record on Bandcamp. For the band, this platform provides a direct link between them and their dedicated fans, allowing supporters to buy merchandise and engage with the band's music on a more personal level. While the album will eventually find its way to streaming giants like Spotify and Apple Music, Redder Moon's initial Bandcamp release is a heartfelt gesture of appreciation to their loyal fanbase.
The Illusion: A Glimpse into the Album:
"The Illusion" is the second single from "She Was Certainly Bit By Something," and it promises to be an intriguing addition to Redder Moon's musical catalog. Vocalist and lyricist Jill McKeever describes the song as a reflection on deception in relationships. She explains, "The Illusion is about a guy who pretended to be someone he wasn't, which didn't work out for him with me. He eventually found someone who believed his game was genuine. Or maybe she liked Illusions?"
With McKeever's hauntingly evocative vocals and the band's signature blend of synths, guitars, and drums, "The Illusion" is sure to draw listeners into its mysterious narrative and atmospheric sound.
The Album's Intriguing Title:
"She Was Certainly Bit By Something" – the album title itself is shrouded in mystery and intrigue. According to the band, it's meant to capture the essence of the music within – a tapestry of looming tragedies, discomfort, subtle apathy, and enigmatic stories. This title hints at a multifaceted musical journey that fans can look forward to exploring.
Meet the Creative Minds Behind Redder Moon:
Redder Moon is a self-produced and self-recorded project, with files passing between the band members until the music takes shape. This unique collaborative process has been the band's modus operandi since its inception during the 2020 pandemic. The band's lineup includes:
Jill McKeever: Vocals, Lyrics, Violin
Brody Lowe: Synths, Drum Machine, Production
Jeremiah James Gonzales: Guitar, Bass, Synths, Drums, Production
The songs are meticulously crafted in their respective home studios before being combined and refined into fully realized compositions at The temple room studio which is (Jeremiah James) main producing studio where it all came together. The final touch comes from their trusted mixing engineer, Ross Brown (known for his work with Shy Boys, Snacky, and Full Bloods), and mastering by Duane Trower at Weights & Measures Studio.