BILLY IDOL WROTE 'WHITE WEDDING' IN 20 MINUTES
The singer wrote one of his most iconic hits, "White Wedding", in just 20 minutes.
Idol says he was in the studio with a guitar and drum machine and wrote the title 'White Wedding' at the top of a blank page – thinking about his sister who had "recently gone to the altar pregnant."
20 minutes later, the song was written, and the band recorded it the next day.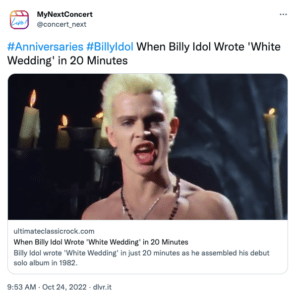 What are some songs that seem disturbing when you look closely at the lyrics?
---
ARCTIC MONKEYS GET JOOLS HOLLAND EPISODE
It's the first time the show has been devoted entirely to one band in 15 years, but past special episodes have included Oasis, Radiohead and Metallica.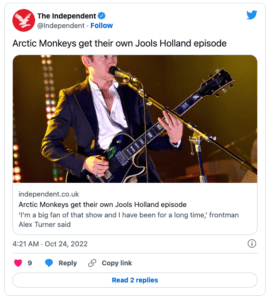 The band released their latest album, "The Car" (the most boring album of the year…by far) on Friday and have also announced a stadium tour for 2023.
What other band deserves a whole special with Jools?
---
HAYLEY WILLIAMS REFLECTS ON WHEN WE WERE YOUNG FESTIVAL
In an open letter posted ahead of the band's headlining set on Sunday, Williams wrote "I'm celebrating the fact that, as a scene, we've come a long way".
She added "Tonight, for me at least, is about celebrating all the facets of what punk music actually represents. All the things it wasn't allowed to be when we were young."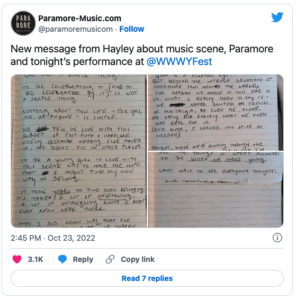 The festival debuted Sunday after Saturday's events were canceled due to high winds. A third date will take place this Saturday, October 29th.
What are your thoughts on how far the punk scene has come in the last 20 years? Will we see more 'copycat' festivals like WWWY?