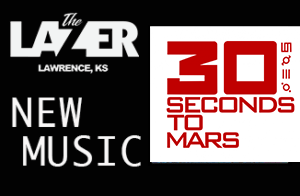 LEAD SINGLE, "STUCK," OUT NOW

LISTEN HERE & WATCH THE OFFICIAL VIDEO DIRECTED BY JARED LETO HERE
NEW ALBUM, IT'S THE END OF THE WORLD BUT IT'S A BEAUTIFUL DAY, COMING THIS FALL

Or Listen here on The Lazer
THIRTY SECONDS TO MARS
IT'S THE END OF THE WORLD BUT IT'S A BEAUTIFUL DAY
"I definitely don't have the ability to show up and keep things simple," Thirty Seconds To Mars'
Jared Leto says when asked about the process of making the group's sixth album,
It's The End Of
The World But It's A Beautiful Day
. "I always like to make my life, and everyone else's life, as
interesting as possible. I want to take advantage of every opportunity and make it as rewarding,
creative, and special as I can."
Indeed,
It'
s The End Of The World But It's A Beautiful Day
is a triumphant new musical offering
from
Thirty Seconds To Mars, which Leto co
–
founded with his brother Shannon and has been driven by
their intuitive creative interplay ever since. The siblings wrote hundre
ds of new songs remotely over
the last several years and specifically carved out these 10 for the album, inspired by the gamut of
emotions and experiences through which they've navigated in the five years since the release of
their chart
–
topping previous a
lbum,
America
.
"Shannon and I wanted to make an album that speaks to who we are now," Jared says of the
project, which is led by the propulsive single and opening song, "Stuck." "The connective threads
are a sense of optimism, celebration, vulnerability,
and simplicity too. We didn't want to return to
something we're familiar with, and I think we did that."
It's The End Of The World But It's A Beautiful Day
is focused and concise, with no songs longer than
three
–
and
–
a
–
half minutes and an emphasis on Jar
ed's emotive, straight
–
from
–
the
–
heart vocals.
"There's very little fat," Jared emphasizes. "We're a band that used to have 12
–
minute songs, and
not doing that is a new experience for us and takes a lot of restraint. We've done the anthemic
arena
–
rock thing
. It was interesting to take a step back and look at songs to find out, how little can
we do here? How minimal can things be, and what's the most important aspect of a given song? My
brother also took a big position in terms of producing songs in addition
to drumming
.
"
Throughout the album, the songs here explore new
feelings
and colors while taking solace in the
elemental: love, seizing the moment, heartbreak, and transcendence. Among the highlights are the
strident, hook
–
filled "Seasons," which is
enveloped in the reassuring warmth of acoustic guitar and
effervescent synths; the roof
–
raising, arms
–
in
–
the
–
air tracks "Life Is Beautiful" and "Avalanche"; and
the artfully produced gems "World on Fire" and "7:1." Says Jared of the latter, "It has a sense
of
mystery and atmosphere. It's melodic and has some darker undertones and a really strong rhythm.
It feels like Thirty Seconds To Mars
–
it doesn't sound like anyone except us."
The band's commitment to getting out of its own comfort zone extended even
to song titles. To wit,
Jared says "Life Is Beautiful" was originally named "Misery," until he realized "the world has a lot of
misery in it already. There are more days in life where I look out at the sky here and acknowledge
the beauty of life, so I'm g
lad that's where the song ended up."
And after singing and co
–
writing "Remedy" on
America
, Shannon again takes the mic for a rare lead
vocal on the new album's "Midnight Prayer." Jared
smiles
, "It took me 20 years to get an arena to
sing my songs back to
me, and he stood on stage at his first fuckin' performance and an entire
arena was singing his song back to him like it was an anthem. He actually sang in a really vulnerable
way that I think people responded to. That has always been a bit more challengin
g for me, but I
discovered a different part of my voice from hearing him sing that song
—
more intimate,
vulnerable, and maybe more revealing or truthful."
Thinking back on his earliest musical memories, Jared marvels at how instinctively he and Shannon
gravitated to playing instruments, even if, in Jared's case, it was a cheap guitar or a beat
–
up old
piano his mom retrieved from the side of a road. "Shannon was a drummer and would play in the
local neighborhood heavy metal band. I knew a few chords on th
e guitar, but I was the younger
brother, so I was never invited into their band," Jared says. "If we weren't brothers, there wouldn't
be a Thirty Seconds To Mars. If there wasn't a Thirty Seconds To Mars, who knows what the
relationship would be between us
as brothers. It's so much more than just a band or a business or
creative outlet. Man, what a journey."
Despite the deliberate
and lengthy
process involved in creating their latest record, the band
intends to release their next album in a shorter time
frame
.
"My god, it would be nice to put an
album out and not wait five years every time," Jared says. "It's really just because we've been so
meticulous, but I think we've gotten faster, finally. We do have a lot of other songs that are pretty
realized, s
o I'm hopeful that this new chapter includes more music, and more music sooner."
For now, Thirty Seconds To Mars is overjoyed to share the wide
–
ranging
It's The End Of The World
But It's A Beautiful Day
with fans, especially after the tumult of the recen
t past.
"If you'd have
asked me when I was a kid if I'd release a single album, I would have told you you were crazy," Jared
says. "I'm an art school dropout but I was a musician first. In fact, there've been these funny times
in my life when I was just a
musician and didn't make a film for six years. Now, it seems to have all
come full circle."